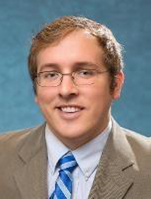 The Cortland YMCA announced today Noah Beck will serve as the new Executive Director, effective November 26th, 2018. He will succeed David Hamilton, who has served as Executive Director for 3 years and will retire at the end of November, as previously announced.
Board President, Andrea Haenlin-Mott, reports the Executive Director Selection Committee worked hard to determine priorities, qualifications and key deliverables for the new Executive Director with input from board members and staff, then conducted thorough interviews and reference checks to identify the best suited candidates for the position.
On the evening of Wednesday, October 24, 2018, the committee reported to the Board of Directors and to the current Executive Director the thoughtful and careful selection of Noah Beck as its new Executive Director.  After discussion, the board ratified the selection in a unanimous decision. Haenlin-Mott and the BOD are pleased with the process and the decision.  "Noah comes to us with a robust work ethic, great enthusiasm, and wonderful leadership experience that are in line with the YMCA mission and vision principles.  We all look enthusiastically forward to working with him!"
Noah Beck currently serves as Aquatics Director and Head Swimming and Diving Coach at Marywood University, a position he has held since 2016.  He has previous experience in similar positions at SUNY Geneseo.  Noah's roots are in the Cortland Community where he grew up in our local YMCA as a swimmer on the Stingers' team and became a life guard and Head Swimming Coach at our Y.  Noah comes to us with a Bachelor's Degree from University of Connecticut and Master's degree from SUNY ESF.  Noah says, "The Cortland YMCA and the surrounding community hold very special meaning in my life and I am thrilled to give back to the organization that has given me so much.  As a former Y member and employee, I have a unique perspective of where we have been and a positive vision for what we will become."  Noah looks forward to working with our Y members, staff, BOD, BOT and community to promote the YMCA mission and vision.
Congratulations and welcome to our new Executive Director, Noah Beck!
The Cortland County Family YMCA is, and always will be, dedicated to building healthy, confident, connected and secure children, adults, families and communities. With a focus on youth development, healthy living and social responsibility, the Y nurtures the potential of every youth and teen, improves our Cortland Community's health and well-being and provides opportunities to give back and support neighbors.  Visit www.cortlandymca.org,  and Follow us on Facebook at facebook.com/CortlandyCountyFamilyYMCA.
Please consider us for your Cortland Community Foundation donation due by November 15, 2018. Thank you for your support…come be a Y member today!