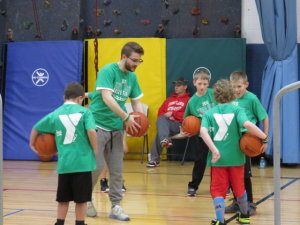 Fall 2018 Information Coming Soon!
Youth Basketball is an instructional program that focuses on skill development and an introduction to team play. The program encourages students to get active and have fun while learning basic basketball skills.
Let's start playing!
Learn the fundamentals and skills needed to have fun playing basketball. Introduction to team play through guided drills and games. (Due to limited space, only players and coaches can be in the gym.)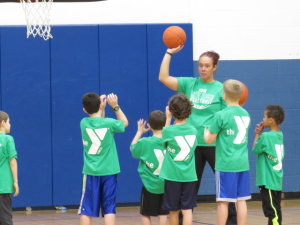 The Rules Specific to Each Division and Group
Rookies: Knee-High – Preschool Boys and Girls ages 3-5
The goal of this group is to teach fundamental basketball skills – dribbling, passing, shooting, & teamwork.
Rookies:1&2 – Boys and Girls in Grades 1 & 2
The goal of this group is to get to know the terms and rules of Basketball, learn to play offense, and learn to play defense. 8' rim height.
:30 skills and drills

4 minute Mini-games with available teams

All players get equal play time

Scores will not be kept

Man-to-man defense only

No pressing allowed

Coaches on the floor to officiate and assist
Rookies:3&4 – Boys and Girls in Grades 3 & 4
The goal of this group is to get the players to setup and run a ½ court offense, and to play defense as a team.  9' rim height.
:10 skills and drills

4 – 8 minute quarters w/3 min. half-time

Substitution horn at 4 min.

1 time-out per half, per team

All players get equal play time

Fouls in the act of shooting – 1 shot

Clock stops for foul shots

Scores kept – 12 point spread max.

Man-to-man defense only

No pressing allowed

Coaches may be on the floor to assist